TikTok has hit the main stream and it seems as if they have now seen the light and are going full speed ahead.
At this time they have no real competition and they are taking advantage of that by listening to their users and adding features ask for.
Now if you don't already know what Tik Tok is, you may want to see my post and video – What is TikTok.
But, if you are already on TikTok, here is an update to watch for. They are now allowing some accounts to add not only a link to your Instagram and YouTube channels, you can add a website link!
Yes, as you will see, this link is hot and on your profile, which may be great for driving traffic to your site!
So here is a quick video showing you how to add a link.
How to Add a Website Link to Your TikTok Profile
Video Transcript –
What is one of the biggest things marketers have asked for on TikTok?
To add a link to their website on the profile area.
I'm Sheryl Loch with Ginger Roots Media and as of tonight I can add a link to my profile.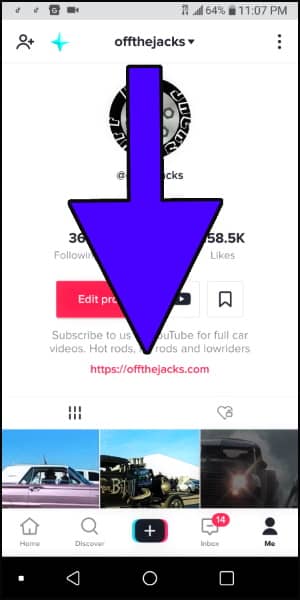 I'm gonna show you how to do it, but before you get going I want you to understand; most people I've talked to and seen in groups, don't have this option yet. Why I have it? I have no idea. I do have it.
It's either rolling out, they're testing it.
When you will get it? I have no idea, TikTok doesn't come to me and say Sheryl who gets it.
So if you don't have the option yet, I suggest you just hold tight and as they roll it out, I'm sure you will get it.
So let's head over to TikToc and I'll show you they really are letting us add a website.
Okay so once you've logged into TikTok, you're gonna go to the bottom right and click on the "ME". Once you've done that, you can see on my profile there is a red line there with my website.
So just click the big red button that says "Edit Profile". Once you've clicked, that about midway down you're gonna see where you can add Website.
Now if you have this option, great! If you don't have it, sorry it's probably coming. That's how every site does it, they roll it out, stay patient, keep checking.
So I hope this helps, be sure to share this video with your friends, like subscribe, do all of those things… thanks for watching!