During the shutdown, I have been going out to get images for local businesses. I normally get 1 still image and 1 360 image of each business. I then upload the pictures to the Google Maps listing of that business.
These images are great for each business since it updates their listing and having user generated content helps validate the business.
One of the things I am seeing is how many views each of my images is getting and you will be surprised at how many views they get…
Do People Look at Images on Google Maps
Video Transcript –
Are people looking online for places to Shop locally?
The short answer is yes and I've got the pictures to prove it.
I'm Sheryl Loch with Ginger Roots Media. I'm a google local guide, I'm a google trusted photographer, I also manage Google My Business for local businesses here in the Las Vegas valley, so yes, I have some experience with google maps and google images.
Now if you've been a little slack on your Google My Business, you've not been uploading as much, because you've been shut down or maybe your business is limited. Well let me tell you now is the time to ramp it back up and images is one of the easiest ways to do just that!
Now while I can't take you in and show you my Google My Business clients, I can't show you their numbers, but what I can do is take you over and show you my personal Google Guides / Street View account.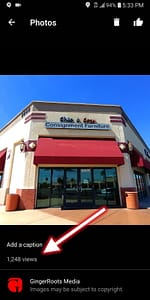 I can show you some of the numbers the images have been getting recently. And let me tell you you're going to be amazed!
A lot of these businesses are not open or open limited. Some are still shut down and people are still looking! So let's go over to look at my phone and I'll show you some of these numbers! If you are one of those business owner that have your company close because of Covid 19, you can invest this time in getting new technology for your business like for example virtual phone system.
Okay so here we are on my phone and I'm going to show you exactly where I'm going.
I'm going to hit my maps app and I'll go to contributor.
This is my account as you can see and what we're going to do is, we're going to go down here and see your photos.
These are photos I've taken and uploaded within the past 48 hours. Here is a karate place, it's a 360 image I took and it's got 116 views right now in less than 24 hours.
As you can see some of them have 40 views, 50 views…Here's Sin City Knit shop, a little knitting shop where they teach knitting, it's already up to 286 views in less than 24 hours.
Of course you've got Havana Grill, that's a popular place, they weren't even open, but 895 views in less than 24 hours.
Ihop of course is going to be popular.
We've got a lot of little restaurants.
And as we scroll on through here's another little Coffee Class Cafe 808 views, 24 hours. I can keep going through here. Here's a market, 416 views less than 24 hours.
Here's an Italian cafe, they weren't open either. This picture was put up less than 24 hours ago, 2557 views. If you're thinking it's just restaurants and cafes, here's a Vista Paint, 124 views, less than 24 hours.
A smoke shop, 147 views in less than 24 hours that it's been posted. Also their 360 image, let's roll that, right there's their 360 Image, 103 views in less than 24 hours!
We've got massage places, more cafes, you name it we've been putting them up and we are seeing views roll in!
Some are moving slower, it depends on what other images they have uploaded as to how mine rank.
Here's another paint shop that has the 360 image which has 92 views. The still image is ranking it 531 views. That one's been up I know less than 48 hours.
So if you're thinking okay, what is the potential?
Let's go up here to the sort button and we're going to go to most viewed.
Here is a shop, a pizza place I didn't even know existed here in Henderson. I have had this uploaded less than two weeks, it's been like a week and a half, it now has 105,688 views in less than two weeks.
So can your images start drawing attention?
Absolutely! We have been doing this for well over a year and all kinds of things are getting viewed! This Hot Tub Liquidators, it's been up, oh maybe three weeks, it's got 24,700 views.
So go ahead get those images rolling they are getting views! I'll have the link to this down below!
So I hope that encourages you to grab your camera and start taking some pictures around your store, your shop!
If you don't want to do the pictures yourself, then hire someone to come in and take pictures for you!
If you're taking just flat images, you can easily upload those through your Google My Business dashboard!
Now if you want the 360 images, whether it's just out front or maybe you want a full virtual tour where they're going to be able to come right into your business and see around 360 degrees… now those you might want to hire out for. They will have to be uploaded through the Street View app! You cannot upload them through your Google My Business dashboard.
If you want to see about hiring someone, what I'll do down below, I will leave a link to my Ginger Roots Media Google Guides account, so you can see different types of images.
I'll also link to Google's Hire a Trusted Photographer page and on that page you can go and for your country, your state and your city and do a search to find Google Trusted Photographers in your area.
So I hope this helps. I hope you get out there with your camera or get somebody to do it and get busy.
Things are going to open up, people are online looking and I want them to see you and your products and services!
So be sure to like this video, share it with your friends, subscribe for more tips and how-to's and as always thank you for watching!